Author:
Genevieve Jack
Genre: Urban Fantasy
Source: Kindle Freebie
308 pages
**The Ghost and The Graveyard is a funny, exciting, and sexy read intended for adults. Due to sexual content, language, and violence this book is recommended for ages 18+**
Grateful Knight isn't looking for love when she moves into a rent-free house on the edge of a graveyard. At twenty-two, all she wants is to recover financially so she can move back to the city where she belongs.
But sparks fly when the gorgeous cemetery caretaker, Rick, introduces himself and mentions his suspicion that her new house might be haunted. Her attraction to him seems supernatural, and despite her resolve to not get involved, she literally can't keep her hands off him.
When things in Grateful's house start moving on their own, another man enters her life, Logan, a sexy ghost with a dark secret. He says Rick isn't what he seems, and indulging her passion for him could cost her soul.
One thing's for sure, magical forces are at work in the tiny town of Red Grove, and they're converging on Grateful. Life will never be the same once she's forced to choose between the ghost and the graveyard.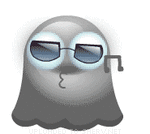 I loved this book. I'm sad that it is over. It didn't have a cliffhanger per se but the way it ended left me wanting more! The closest comparison I have would be the Charley Davidson series, which is one of my favorites. Grateful wasn't as funny as Charley but there are some similarities there. I can honestly say that I couldn't guess what would happen next through almost the entire book. Except the part with the ghost Logan... I figured that one out but thought I was wrong. Who can argue with a hunky ghost hanging around?
The main characters in this book are Grateful and Rick. There's also the aforementioned ghost Logan and another ghost Prudence. Then there's Grateful's best friend Michelle. Grateful has to move into this house because her ex took all of her money. The house ends up being haunted. Rick is Grateful's new neighbor who she has an instant connection with but is afraid to end up screwed over by yet another man. It doesn't help that the ghost Logan has a crush on her either. Lots of fun! My favorite parts of the book were with Rick. I liked Grateful's connection to him and think that in addition to being super hot he's also very sweet. Michelle was hilarious, especially her concept of the "blonde paradox."
The Ghost and the Graveyard is the first book in the Knight Games series. The second book came out this September. It is called Kick the Candle. I am looking forward to reading this book and finding out what happens next. I'm hoping Grateful gets with Rick and they kick lots of ass together. I liked Genevieve Jack's writing style, it was a fun read and I look forward to reading more of her books.
Favorite Quotes:
"Well that was a relief said no one after seeing a ghost, ever!"
"That's why they call it falling in love. You fall. It's an uncontrollable act of gravity that has nothing to do with choice and everything to do with fate."
"What the hell is the blonde paradox?"
"I'm blonde, right? And sort of look like Barbie. Well, that attracts men because their caveman brain thinks I'm more fertile. But then they assume I'm stupid due to societal stereotypes about blondes and ironically become less intelligent in my presence. It's like my looks are toxic to a healthy relationship."